(DDr.Jahl gibt Einblicke in sein Buch, das er im Sommer 2019 und Sommer 2020 vor allem in Ungarn am Neusiedlersee geschrieben hat. Dieses Buch handelt von Gedanken, Erlebnissen und Ideen, die ihm in seiner Eigenschaft als Kieferchirurg in seinem beruflichen Leben in der Praxis begegnen. Kritisch und ehrlich. Ohne Hintergedanken. Offen und empfänglich. Viel Freude!)
Gut, ein paar Tage sind vergangen seit den letzten Zeilen, ist ja auch Sommer, also Urlaubszeit.
Urlaub in der Ordination ist aber echt immer eine Herausforderung für alle Beteiligten. Man muss die letzten 14 Tage wirklich deutlich überdurchschnittlich arbeiten, um angefangene Behandlungen fertig zu stellen, beziehungsweise fertig stellen zu können. In meinem Fall heißt das auch, dass 14 Tage vor einer Abwesenheit ( Urlaub, Fortbildung,…) keine Patienten mehr operiert werden um eine zufriedenstellende Nachbehandlung gewährleisten zu können. Das bedeutet aber auch, dass eigentlich fast kein Umsatz mehr gemacht wird, der aber notwendig ist zum Aufrechterhalten des wirtschaftlichen Betriebes, zum Bezahlen der Rechnungen ,Steuer und Löhne der Mitarbeiter. Ich kann also nicht, wie ein Zahnarzt, zwischenzeitlich andere Behandlungen machen, wie Kronen, Prothesen oder Brücken, da wir ja nur und ausschließlich Zahnimplantate anbieten und machen. Und nach einem Urlaub holt einem die Arbeit erst recht wieder ein, und spätestens dann fragt man sich, ob so ein Urlaub wirklich sinnvoll ist. ( Aber natürlich ist Urlaub sinnvoll und wichtig!)
Was ist mit der Dame passiert?
Vor dem Urlaub haben wir noch, nach exakter Planung und Kalkulation, einen Heilkostenplan an die Patientin vom letzten Blog geschickt. Ihr wisst schon, die Dame, wo zuwenig Knochen war!
Dazu muss man wissen, dass Zahnmedizin traditionell immer schon eine teure Medizin war und weiterhin ist. Oder sagen wir besser kostenintensiv statt teuer, weil teuer heißt ja eigentlich, dass etwas viel Geld kostet und das nicht wert ist. Also manche Behandlungen, vor allem komplizierte und aufwändige Behandlungen, natürlich auch mit Zahnimplantaten, kosten einfach viel Geld. Und dieser Heilkostenplan, also quasi ein Kostenvoranschlag wie beim Handwerker, der war schon hoch. Richtig hoch, aber nicht weil wir Patienten übervorteilen wollen, sondern weil diese spezielle Behandlung, um die Dame zu rekonstruieren im Bereiche des Kiefers, einfach langwierig und echt umfangreich ist. Weil Knochenersatz, der bei ihr notwendig ist, und Zubehör einfach richtiges Geld kostet. Weil ein Knochenaufbau chirurgische Kunst ist, der sein Geld kostet. Weil Implantate auch in meinem Einkauf mir viel Geld kosten, und weil das die Industrie, die dahintersteht, weiß und aufrecht erhält. Und deshalb bleibt die Zahnmedizin, und Zahnimplantate sind auch Zahnmedizin, damit weiterhin teuer für Patienten. Wir bewegen uns definitiv auf einem zu teurem Niveau, weil es eben auch machbar wäre das alles günstiger zu machen.
Aber die ganze Industrie, die dahintersteht, will auch gut leben.
Fakt ist: Das Ganze ist zu teuer!
Das Argument der Industrie ist immer: Aber wir betreiben ja sooooo viele Studien im Sinne der Patientensicherheit und Produktentwicklung. Das mag schon stimmen und es gibt ja auch Premiumhersteller, die tatsächlich viele Studien finanzieren, aber das Preisniveau an sich ist einfach zu hoch. Die Mitarbeiter im Verkauf von Implantatfirmen fahren all miteinander echt schicke, große und gut ausgestattete Autos, das einmal nur so nebenbei. Und da sprechen wir nicht von Skoda, Kia oder Hyundai. Ich als Unternehmer darf einen Dienstwagen für die Ordination kaufen, aber nur bis 40000 Euro. Da tut man sich in der heutigen inflationären Zeit schon schwer einen Neuwagen mit 40000 zu kaufen, selbst ein Golf in sehr guter Ausstattung kostet mittlerweile mehr. Und all diese Vertreter fahren keinen Golf! Man sieht also, dass hier viel Geld dahintersteckt, viele Familien dahinterstehen, die auch ernährt werden wollen und last not least soll das Unternehmen der Implantathersteller auch noch gehörig Gewinn erwirtschaften.
So eine Schraube aus Titan kostet doch in Wirklichkeit in der Herstellung keine 10 Euro, das wissen wir alle. Also werden die Preise einfach seitens der Industrie  hochgehalten, damit weiterhin die Wirtschaftlichkeit bestehen bleibt. Und deshalb müssen, nein, haben Zahnärzte keine Möglichkeit das zu ändern, auch nicht wenn sie es wollen würden, da sie genauso in dieser Tretmühle gefangen sind. Und deshalb erhalten Patienten dann immer so hohe Kostenvoranschläge, die manchmal schon  echt fast unverschämt hoch klingen, wenn man sie liest.
Patienten vergleichen das immer mit Autos.
"Da kann ich mir ja gleich ein neues Auto kaufen, das gibts ja nicht!", ist eine häufige Reaktion. Irgendwie lustig hier in Österreich, weil das hierzulande anscheinend ein echt wichtiges Thema ist. Ja, um die komplette  ordentlich und fachlich gut durchgeführte Wiederherstellung eines Kiefers kann man sich ein Auto kaufen. Kein wahnsinnig tolles Auto, das verschweigen die Patienten immer, aber ein Auto das fahren kann und mit dem man von A nach B fahren kann.
Und so einen Kostenvoranschlag hat eben besagte Patientin erhalten. Ein Mäuschen hätte ich sein wollen an dem Tag, an dem sie das Kuvert geöffnet hat und das gelesen hat. Natürlich hat sie sich nicht mehr gemeldet und auch keinen Termin vereinbart. Das war mir vorab schon klar. Wohin wird ihr Weg führen? Das ist klar in diesem Fall- der Weg führt nach Sopron. Also wieder zu mir in die Nähe, auch schön! Aber das ist ein anderes Thema, da kommen wir noch dazu. In Sopron gibt es übrigens ein hervorragendes Steakhaus, wirklich sehr zu empfehlen. Auch eine Sommerrodelbahn und 2 Kartbahnen.
Ich mag Sopron!
Obwohl ich immer über St.Margarethen nach Fertörakos, Kroisbach, herfahre, da gefällt mir die Strecke an sich besser, weil sie schöner ist. Dieser kleine unbekannte Grenzübergang ist aber gar nicht wirklich angeschrieben, den muss man suchen und auch einmal finden. Probieren Sie es einmal, eine echt nette Route! ……..
To be continued!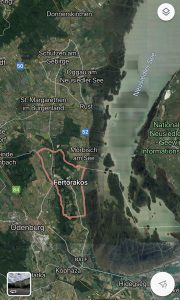 DDr.Gerald Jahl, www.jahl.at